Vision
"One day I had a vision while listening to the sounds of my daughter's piano playing". The lid of the concert grand piano became the slide screen of a ballet. Hand-drawn silent black and white scenes appeared one after the other in my imagination. This is how the idea for the drawing book 'On wings, three centuries of ballet in scenes' was born.
In the book, every ballet starts with a stage story. Eighteen ballets appear as a 'silent' dance film."
Moulen Noir | Black ink dancing rhythmically on white paper, dreams and visions flowing in a meditative line to the music of the grand piano, the black-and-white keyboard. What you see are silent black-and-white scenes from a complete ballet or opera.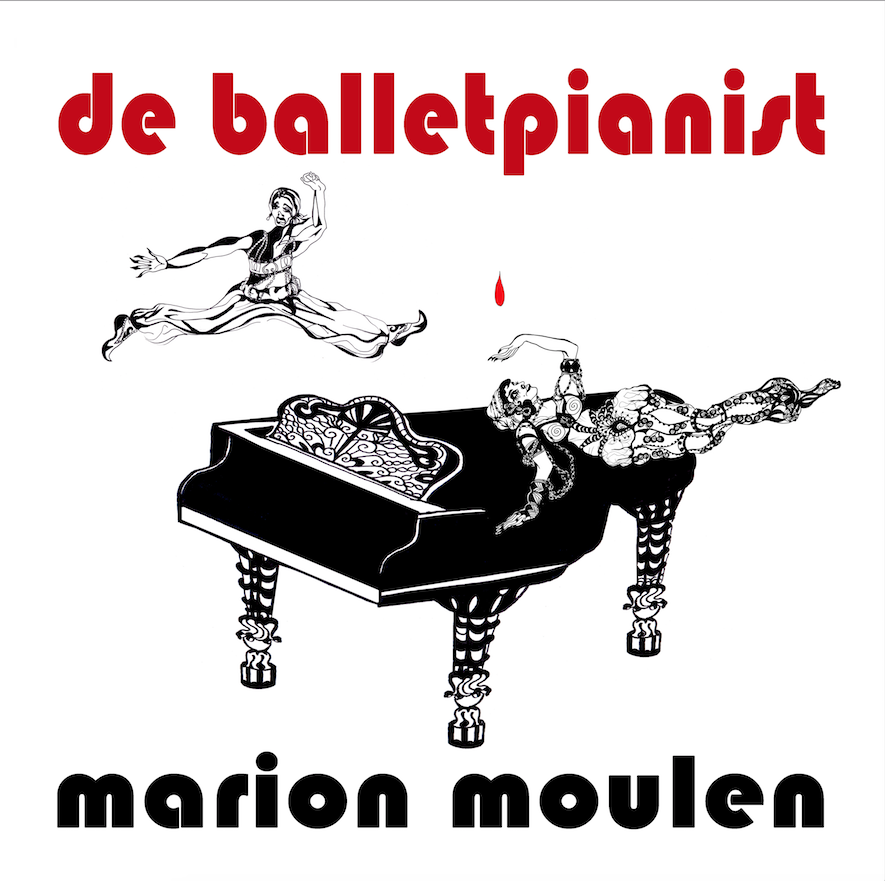 Ballet Music
'On Wings' is the first in a series of illustrated tributes to the pioneers of dance, their ballet pianists and composers. A musical journey from the harpsichord to the modern grand piano. Dance with us – carried on divine wings by the music of Baroque opera; on wings of love in Romanticism. Like exotic birds in avant-garde music and on wings of light in neoclassicism.

Inspiration
A vivid source of inspiration for my book has been all my visits to the theatre, dance films, books of world literature and travels. I admire the authentic hand-painted harpsichords in the Museo en della Musica in Venice. These harpsichords were also used by the French Court Ballet. Next, I followed in the footsteps of the Italian Jean Baptiste Lully, court composer to the French Sun King Louis XIV. I visited the Château de Versailles. The mythological statues in the gardens of Versailles are brought to life in my drawings as 'Apollon' and 'Ballet des Muses'. Following in the footsteps of the librettists, the opera 'Carmen', an opera about a gypsy woman, is set in Seville. I was really touched by the flamenco rhythms during my visit. Finally, after drawing the silent scenes the ballet 'Cléopâtre', I will soon fulfil my dream of travelling to Egypt.
Can you imagine Le Ballet Royal de la Nuit – Le Roi Soleil – Louis XIV dancing his 'cosmic Sun Dance' as the first space traveler on gold-yellow heels in the role of Greek sun god Apollo?
Last year, I visited the Early Music Festival (2018) in Utrecht and became acquainted with a reconstruction – the shortened version 'Concert Royal de la Nuit' – of the original Le Ballet Royal de la Nuit, the greatest ballet spectacle (1653) ever in dance history. A stroke of luck to hear this new score played live now 300 years later! The French Sun King himself dances the leading role as Apollo, he is then fifteen years young. Thanks to composer Sébastien Daucé and his Ensemble Correspondances, the Ballet is now back on stage.

Dance on paper
Dance on paper fascinated me during my studies at the Rietveld Academy in Amsterdam. My research and fascination for dance and music started at a young age. As an art student I visited the exhibition Danses – La Voix du Geste | Plan K – Ars Musica 92 – Charleroi | Musée des Beaux-Arts de Charleroi in Belgium. Here I discovered that there is no fixed system to 'read' dance in the way a musician handles his sheet music. With Modern Dance, every choreographer creates his 'dance on paper' entirely in his own way.
After completing the Gerrit Rietveld Academy, I organized dancers for figure drawing. As a solo dancer Ziaqua, I trained my memory in dance choreography for drawing art. For this, I developed a visual method 'Dance Language MM' as a manual for dance practice. For group choreography, the drawings are more complex.
'Dance language MM' is a unique drawing method of dance poses in ordered movement sequences. Black ink pens dance rhythmically on white paper. You see clear flowing line patterns of the movements of the dancer's body. The dance poses are arranged in movement sequence and designed 'physically musically'. My research is a drawing method – dance language in 'rhythms and mimicry- that is suitable for various dance disciplines, including modern dance.